Coordinates: 32°00'33.26″N 48°31'17.61″E
The ancient temple of Chogha-zanbil originally called Ziggurat Dur Untash, approximately constructed by Elamites in 1250 B.C. Chogha-zanbil is the remaining part of Dur Untash city which is near the ancient city of Shush. In 1979, it was the first Iranian monument enlisted in UNESCO World Heritage list. It is highly regarded internationally because of its uniqueness and considered by orientalists as the first religious building in Iran.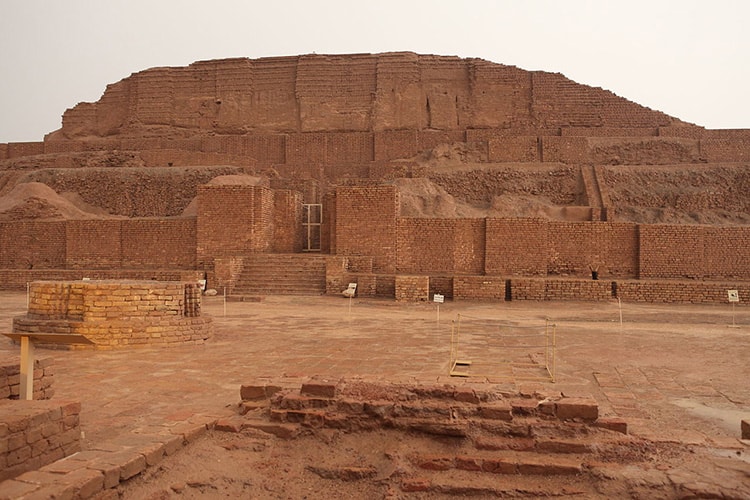 Geography
Chogha-zanbil is located in south western Iran, in Khuzestan province, 40 kilometers south east of ancient city Shush, west side of Dez river.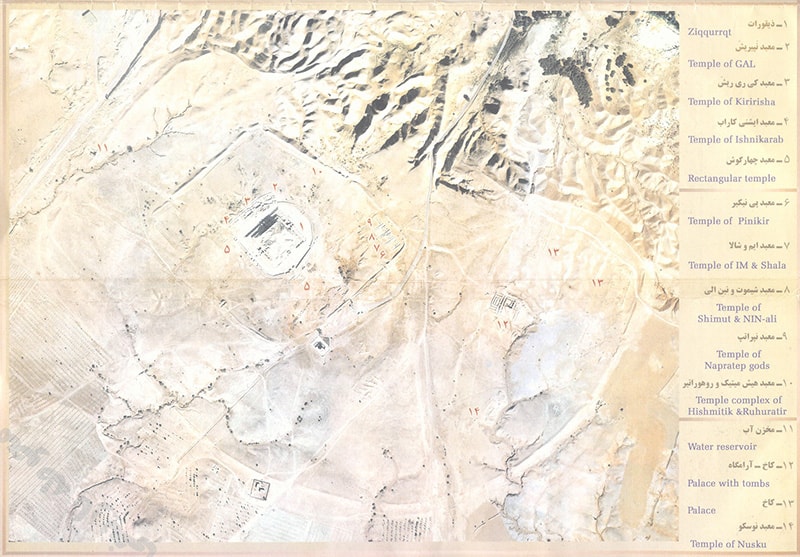 Chogha-zanbil Ziggurat
Chogha-zanbil Ziggurat is the symbol of Elamites art and architecture. Natives call the unusual hills "Chogha" and "zanbil" means basket, and because the place looked like an upside down basket before the excavation, people called it Chogha-zanbil. The word "Chogha" in northern Khuzestan means the ancient hill, and there are several similar words, such as; Chogha-mish (ancient hill looks like a ewe) and Chogha-pahn (a wide ancient hill). In Sumerian language, Ziggurat refers to a massive structure with a terraced compound of successively receding stories or levels. This complex was discovered by Brown in 1933 and excavated by the French archeologist Ghirshman and his group from 1951 to 1962. This Ziggurat was placed at the center of Dur Untash city and was destroyed in 640 B.C by the command of the Assyrian king Ashurbanipal in his battle with Humban, the last Elamite king. The temple is protected by two walls and religious rituals is believed to be held inside the inner wall with seven gates. By the south eastern terrace, seven successively receding stories are placed to offer sacrifices. Subsequently we can understand that number seven was probably considered holy by the Elamites. The south eastern gate was covered with tar and traces of chariots are clearly recognizable, indicating that this gate was the entrance especially made for chariots. The other six gates are covered with cobblestone leading to the Ziggurat.
Chogha-zanbil is a pearl of beauty listed in UNESCO World Heritage list. Elamites made this temple to honor their gods. This square shape complex is 105 meters on each side and 52 meters on height. The temple is built by the command of Untash-Napirisha the Elamite king in 13 century B.C. The complex is mainly built by mud bricks and many inscriptions can be seen on them with similar context. Chogha-zanbil consists of five stories and on the top, the temple is dedicated to the "Inshushinak" the Elamite god, which was believed to be the guardian of the Susa, the capital of the Elamites. Ancient Elamites believed that this god goes to heavens from this place and comes back to earth. There are waterways and canals surrounding the complex, probably to protect it from the heavy rains of Khuzestan. Around the complex is completely covered with cobblestone. On some of these cobblestones, children traces can be seen; the reason of it is yet to be known. On north western side of the temple, there is haven dedicated to the Elamite god "Ishnikrab" and inside the compound a solar watch is built.
Water Treatment of the River
One of the wonders of the temple is its water supply system. The Dez River is near the Chogha-zanbil, but the people could not use its water because the river eroded the field and the streambed is blower than the surface (in some places 60 meters). Therefore, Untash-Nipirishe the Elamite king, ordered the construction of a 45 kilometer canal from Karkheh River to Chogha-zanbil, because Karkheh and Chogha-zanbil were on the same level on ground. The river's water passes Khuzestan fields and Haft-Tappeh (Seven Hills) to reach Chogha-zanbil, becoming muddy on its way. Therefore, Elamites tried to treat water using different techniques, such as; using huge and small sedimentation pools and passing water through different water pipes. It is noticeable and quite phenomenal that this water treatment system operated by utilizing linked vessels and benefiting from Pythagoras laws (Pythagoras was born in 570 B.C).
Ziggurat Architecture
Each corner of the complex points to one of the geographical directions, indicating that they were completely aware of these directions. The first story is 105 in 105 meters, one meter above the ground and its walls are three meters wide. The second story is 8 meters in height and 16 meters in length. In north eastern and western entrances, there are stairs leading to the second floor. This latter is made up of rooms with 6 meters height that are covered with 2 meters roofs (together 8 meters) and 8 to 10 meters length. First floor rooms are interconnected with 4 meters vaults, but the second floor rooms are separated from each other and each room has its own stairs leading to it. There are three other temples in northern western side dedicated to Elamite gods called "Ishmikreb", "Uban" and "Kirisha", each one of them having its own chamber, yard and storeroom. All of these temples are made of adobes and some parts of inscripted bricks.
This complex is made up of millions of adobes and thousands of bricks, 5000 of which are inscripted. It is worth mentioning that those inscriptions are not stamped. Each one is handwritten separately. Elamites used inscriptions to embellish the complex. Similar inscripted bricks have been seen in Bushehr as well. In 1876, hundreds of inscirpted bricks have been excavated by the archeologist group and nowadays are exhibited in the world museums.
UNESCO World Heritage Standards and Chogha-zanbil
According to UNESCO website, there are ten criteria for ancient sites to be enlisted in UNESCO World Heritage list. Each ancient site should meet at least one out of those criteria. In this case, Chogha-zanbil has met the third and fourth ones, namely; to bear a unique or at least exceptional testimony to a cultural tradition or to a civilization which is living or which has disappeared & to be an outstanding example of a type of building, architectural or technological ensemble or landscape which illustrates (a) significant stage(s) in human history.