Nowruz is the first day of the Iranian solar year to celebrate the beginning of the new Iranian year and one of the oldest celebrations of ancient Persia. The origins of Nowruz are ancient in Iran, and people of different regions of Iran's plateau are still celebrating Nowruz. The time of the Nowruz is at the beginning of the spring, which nowadays is called spring equinox or akinous.
Nowruz is from Middle Persian (transcription: nōgrōz), derived from the Avestan language. Historians, guess the Avestan equivalent, as navaka raocah.
In some of Iran's ancient texts, including Ferdowsi's Shahnameh and the history of Tabari, Jamshid, and in some other texts, Kiumars has been introduced as the founder of Nowruz. The creation of Nowrooz in Shahnameh has been narrated as: Jam (Yama), passing from Azerbaijan, landed on the Jamshidi Palace of the Jamshid Arg and landed and with golden crown sat there on the throne and with reaching the light of the sun to its golden crown, the world became bright and the people rejoiced and called that new day as the New Year's Day and Jam as Jamshid. The most significant mythical figures like Jamshid, Siavash and Keykhosro has been connected to Nowruz. Nowruz is the day of Jamshid's great victory over the daemons, that have been symbolized to the dangers of cold, darkness, ignorance and violence.
Registering Nowruz as a global day of Nowruz and the culture of peace

---
The United Nations General Assembly approved a statement that the 21st of March equals to first of the Farvardin in the framework of Article 49, entitled with regard of culture of Peace as the "International day of Nowruz", and entered it into its calendar, during this action, which was held for the first time in history that took place in this organization, Iranian Norouz was recognized as an international occasion.
The area where the Nowruz festival was held, nowadays includes several countries and is still celebrated in these countries. The Norouz geography, called Nowruz or similar, is spread throughout the Middle East, the Balkans, Kazakhstan, Tatarstan, Central Asia, Western China (Turkestan of China), Sudan, Zanzibar, in Asia Minor throughout the Caucasus to Astrakhan as well as North America, India, Pakistan, Bangladesh, Bhutan, Nepal and Tibet.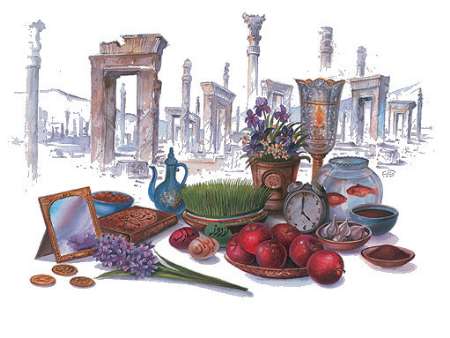 The Nowruz Customs
1- Housecleaning
The housecleaning is one of the Nowruz ritual that people who celebrate Nowruz adhere to it. In this ritual, all the house and its equipment are dusted and cleaned as getting close to Nowruz. This ritual will be held in various countries, including Iran, Tajikistan and Afghanistan.
2- Enflame Fire
The custom of enflaming the fire from ancient times has been commonplace in some areas of Nowruz. In Iran, the Republic of Azerbaijan, and parts of Afghanistan, this custom is commonly used to enflame fire at night on the last Wednesday of the year. This ceremony is called Chaharshanbesury.
3- Nowruz tablecloth
Nowruz Tablecloth is a common ritual in the Nowruz ceremony among the people celebrating Nowruz.
The Nowruz tablecloth, which today is called the Haft Sin table in Iran, has two types of materials
A: the goods that has symbolic aspect like garlic and coin and materials


B: objects that has both aspect of food and serving Like all kinds of traditional or new nuts and sweets.

It's also an inseparable item in Haft-Seen, and it's a symbol of Greenery, Nature and Exhilaration. Also there are some who claim it is a symbol of Love too.

it is a very common item in almost every Iranian Household Haft seen. Its main symbolic definition is "Health", there is A prevalent quote in Persian culture which says "If someone ate an apple in a day, he would never require a doctor!
They put it on table for the reason that everyone pledges to himself that with beginning of the new year deliberate anything that want to do because Anode is a symbol of acting wise and sign of a tendency to reason. Anode is symbol of wisdom and birth, it's a fruit when fertilized and its smell spreads in space, improving the power of sensation of humans. For that regard some believe that Anode is putting on table is the symbol of human love, to each other.

an inseparable item, which symbolizes the Disinfection. Also some believes that it's a symbol for Surrendering and Satisfaction. In Persian literature vinegar is used to analogize the stress, tear, etc., since some deduce from that its symbolization meaning.

Garlic is a medicinal herb and used as antibiotic and put on table because of 2 reasons: the first one is for health and antibiotics effects and second is that its symbol of self-respect.

is a sweat paste made from germinated wheat, which is especially prepared for Nowruz and it has a history in pre-Islamic Persian empire. Actually it is a symbol for Power and Bravery.

Is the Muslims holy book and the symbol of sign of trust to God.
Coin is the modern Sin of the Table of Haft Sin and is the symbol of increase the property.

Sumac is a kind of flower which would be used in HAFT-SIN in Nowruz. it is symbol of patience and tolerance, sun rising, Seasoning and stimulating happiness and the health of our lives. In Iranian idioms "Sumac makidan" represents to inviting someone to be patient.

It is a symbol of light and brightness

it is the symbol for Pisces also known as Fishes, which was relevant in traditional Persian calendar. Iranians put goldfishes in Haft-Seen to indicate that the new year starts from this month. Nowadays it is also a symbol for victory, exhilaration, blessing, etc.

It is a symbol for Lighting and should be places on top of the table.
4- Nowruz foods
Samanoo is One of the most popular foods cooked on Nowruz that made of wheat germ. In most countries that celebrate Nowruz this food is cooked. cooking Samanoo has special rituals in some countries. Women and girls in different regions of Iran, Afghanistan, Tajikistan, Turkmenistan and Uzbekistan cook it together during night and sing special songs.
Cooking other foods are also common in Nowruz.
5- Visiting
Visiting relatives in Eid is one of the Nowruz tradition, that is common in most countries that celebrate it. In some regions, mentioning (remembrance) the ancestors and being present on their graves is also common. Nowruz is beginning with visiting relatives and family. It is common in recent years to visit graves of martyrs and their family.
6- New and clean Nowruz clothes
It is essential in Nowruz to take a shower and then wearing new clothes, that people should visit their relatives and friends with new and clean clothes.
7- Tourist
8- Sport competitions
9- Ecotourism
Iranian people, are going to natural sites like parks, gardens, jungles and also going out of city on first of April. This ceremony is called 13bedar that is happening in 13th of Farvardin.
10- Nowruzkhani (Singing for Nowruz)
A kind of singing that has been prevalent in Iran in the past. Nowadays, this kind of singing is more common in Mazandaran and Gilan provinces.

Hakim Abolqasem Ferdowsi:
چو خورشید تابان میان هوا نشسته بر او شاه فرمانروا
جهان انجمن شد بر تخت او شگفتی فرو مانده از بخت او
به جمشید بر گوهر افشاندند مران روز را «روز نو» خواندند
Khaghani says:
نوروز جهان پرور مانده ز دهاقین دهقان جهان دیده‌اش پرورده ببر بر
نوروز بزرگ آمد آرایش عالم میراث به نزدیک ملوک عجم از جم.
Hafiz said in a poem:
from the street of the friend the perfect murshid come the fragrant breeze of nowruze guidance in the path of god / from this breeze, if them desire aid, the lamp of the heart,than mayest kindle