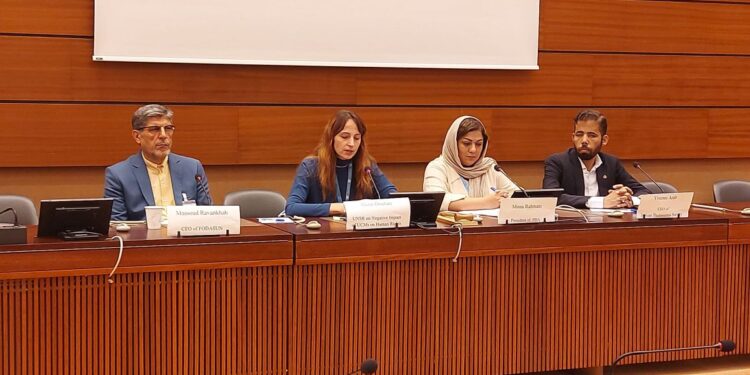 Given the communication and cooperation of Professor Douhan with the Foundation for Dialogue and Solidarity of United Nations during recent years and also considering the need to increase the effectiveness of her report in the 51st regular session of the human rights council about the human rights violations caused by unilateral sanctions in Iran, a side meeting was arranged at the United Nations office in Geneva with the special rapporteur.
The meeting of "Unilateral coercive measures and its impact on human rights in Iran" was held on September 25 with the speech of the special rapporteur along with the CEOs of FODASUN, Pars development activists institute and the Iranian Thalassemia Association. People from other Iranian NGOs present in Geneva as well as representatives of foreign countries and international organizations were present in this meeting.
While introducing the organization, the CEO of FODASUN gave a brief presentation on the disruptive effect of sanctions on the fulfillment of human rights in Iran and the reason for attending the meeting. Mr. Ravankhah, who gave a speech in French; mentioned: "We firmly believe that unilateral coercive measures have led to clear violations of human rights in Iran, and we also know that bringing the voice of the sanctioned countries to the international community requires the creation of a coalition."
In the end, UNSR presented a detailed report on the impact of sanctions on different sections of the people, especially the vulnerable sections. The UN Special Rapporteur stated that secondary sanctions and over-compliance affect all areas of human rights of every person and create serious restrictions on sending humanitarian aid even in the most critical situations. The special rapporteur also talked about his trip to Zimbabwe and Iran and added: "Her visit to Iran showed the very dangerous adverse effects of unilateral sanctions imposed by several countries on the banking, financial and industrial sectors, transport and insurance companies, individuals and companies.