Jazz music, along with other Western life manifestations, made its way to Iran in the 1960s. With its arrival in Iranian radio in the next decade, jazz was able to gain some popularity among Iranians. Watch one of the first performances of oriental jazz.
The story of jazz music in Iran started from Iran Oil Company! In the early 1960s, most of Iran's oil industry was controlled by American and British companies in Khuzestan.   The employees of these companies had their own clubs in Ahvaz, Khorramshahr, and Abadan, and it can be said that jazz music came to Iran from the same clubs. Although, according to an article published in the book "Jazz World" in 2017:
Jazz was less welcomed in Iran in comparison with pop music.
Duke Ellington, one of the greats in the history of jazz music, in Isfahan
In 1963, Duke Ellington took the stage in Isfahan and Abadan. The event was part of a US State Department concert tour of Asia. Three years later, an album belonging to him named "Far East Suite" was released. This album included tracks from jazz that reflected Ellington's experiences and impressions from the concert tour in Iran, for example, the name of one of these tracks was "Isfahan".
But the question is whether this meeting influenced the spread of Iranian jazz music? Were there any Iranian jazz musicians in Iran at that time? The answer is yes. But they mostly covered the famous jazz songs of the time, such as Far East Suite. But in the 1970s, we saw a general shift in the attitude of musicians towards modern music styles such as rock and roll and jazz. The tendency to create big-band jazz also appeared in Iran at the same time.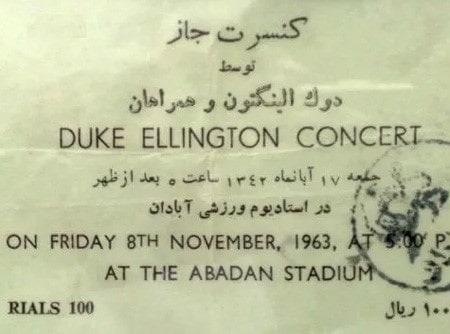 Lloyd Miller and the TV show "Kourosh Ali Khan"
Lloyd Miller, better known to Iranians as "Kourosh Ali Khan," was an American musician, composer, and ethnomusicologist who spent seven years in Iran researching Iranian music and culture. In the 1960s, a group of jazz musicians with Lloyd Miller and Preston Kies developed a new style of jazz music called Eastern Jazz; It could be considered a kind of fusion music. In this style, elements of Iranian traditional music and American jazz music are used together.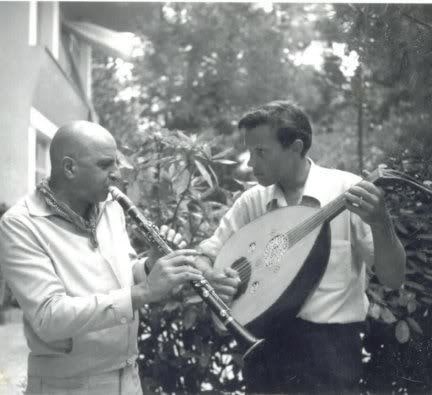 Lloyd Miller performed a program on Iranian national television under the pseudonym "Kourosh Ali Khan". At the Kourosh Ali Khan show, Lloyd Miller was moving on the border between Western music and Iranian traditional music.  In addition to playing the piano and clarinet, he also played a variety of Iranian string and percussion instruments on this show.
Persian music tune in piano performance
Lloyd Miller named one of his great pieces after one of the traditional Iranian musical devices: Se Gah. He wrote and performed this piece for piano. To play this piece, Lloyd Miller tuned the piano to beget a santoor-like sound. Then he played the piece with his fingers as if his fingers were santoor plectrums! Although the movement of Miller's hands in the performance of the piece is reminiscent of the movements of the famous jazz pianist Thelonious Monk, his strategy in playing the performance mode is mostly experimental. In fact, Lloyd Miller's music has its roots in the jazz music of the 1950s and his favorite musicians, roots that have been nurtured by his great mastery of Eastern music. Watch the beautiful video of the Iranian piano performance with Santoor audio color by Lloyd Miller below.
Examples of Iranian jazz groups
After the Islamic Revolution in Iran, under the influence of Western music styles, including jazz, bands were formed in Iran that, although they did not consider themselves the representatives of jazz music, but they show traces of gypsy swing and klezmer music and other elements related to jazz.
E-JAZZ Group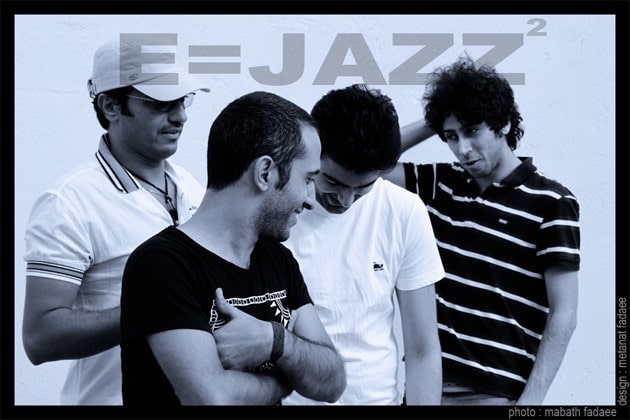 Ejazz group was formed in 2001 and in 2010 performed for the first time, pieces by Aziza Mostafazadeh (Azerbaijani singer, pianist, and composer) and Reza Tajbakhsh. The members of this group were Hooman Ghaffari (drums), Reza Tajbakhsh (piano), Dara Daraei (bass guitar) and Babak Malekifar (electric guitar) (as a guest musician). Let's watch a part of this group's performance below.
The big concert of "ejazz" group, which was held on November 17 and 18, 2010 in Vahdat Hall, was in fact the first official performance of a jazz band after the Islamic Revolution. It can be said that the style of performance of this concert was jazz-fusion, a combination of jazz and elements of Iranian music. In this concert, Ejazz performed the piece "Believe it" which was previously performed in pop style in the style of jazz music. In the second part of the concert, pieces such as "Always", "Viva Carlos", "Continued" and "My Santoor" were performed. "My santoor" is composed by Pedram Derakhshani -leader of the RUMI group- which himself played its santoor in the performance of the Ejazz group. The piece began with rhythms of Iranian music. But then bass guitar, drums, and piano were added to it with a fast jazz rhythm, and the sound of the santoor changed from its familiar traditional form to an approach nigh to jazz. You can watch the performance of "Viva Carlos" in the video above.
This is how Tajbakhsh describes the term "Iranianized jazz" -that has mentioned it as their style of work-:
Each country has its own Maqami styles of music. In those steps, you can play with melodies and harmonies.   It is possible to combine two completely different things from jazz and our Maqami music and create a new atmosphere.
Bomrani group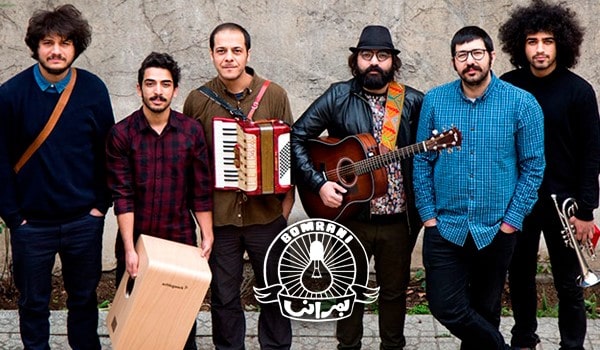 Bomrani is the name of an Iranian music group that started its activities in 2008, from cyberspace and cafes, and then composed and performed live in the theater and currently is one of the active groups in Iran. Bomrani can be considered one of the first bands in Iran that performed on the stages of Tehran in the styles of jazz, blues, and country after the Islamic Revolution. As an example, the elements of jazz music can be distinguished in the song "Where Are You" from Bomrani's "Thirteen Forty" album.
Watch and listen to another performance of the Bomrani group below.
Pallet group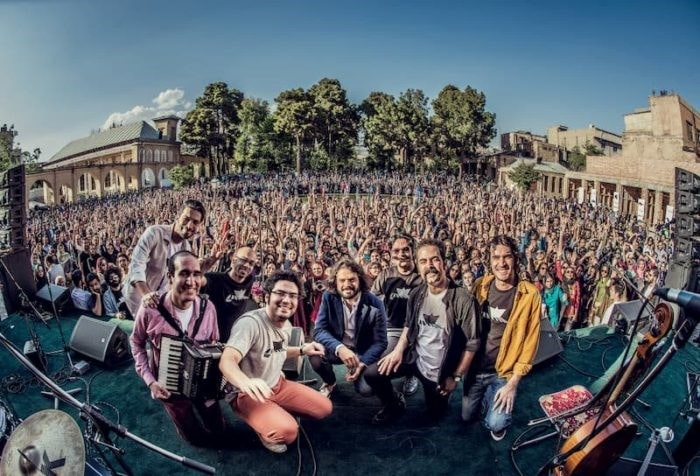 Pallet is an Iranian music group that has created a manner of Iranian music with the color and scent of Western music by combining various elements related to different styles, including jazz. The feature of the "Pallet" is its instruments composition. The instruments of the group include double bass, clarinet, accordion, guitar, and cello. Pallet creates its works with the participation of its members with different tastes, which has led to the diversity of the band's music. Elements of jazz music can be recognized in the song "Fish and Cat" from the album "Laugh my City!". Pallet group has performed this music at the end of Shahram Mokri's successful film, "Fish and Cat".
Pallet band is the voice of alternative music of the new generation of Iran, a combination of classical and modern Persian poetry, and a combination of current issues of Iran and the cultural heritage of this land. Pallet Music Consists of elements of traditional, classical, jazz, rock, gypsy, and Iranian folk music. This group was unfamiliar to Iranian music listeners at the beginning. The reason was its combination of Iranian and eastern music in the frame of western instruments. Although it gradually found its place among music lovers in Iran and abroad.
Watch one of the spectacular videos of the Pallet group in the style of fusion music called "A Thousand Tales" in the following.
Source:
https://en.qantara.de/content/the-history-of-jazz-in-iran-creating-a-confluence
https://ehsankhoshbakht.blogspot.com/
http://cinemapress.ir/
http://mail.musicema.com/
http://pallettmusic.com/
Links to main sources: