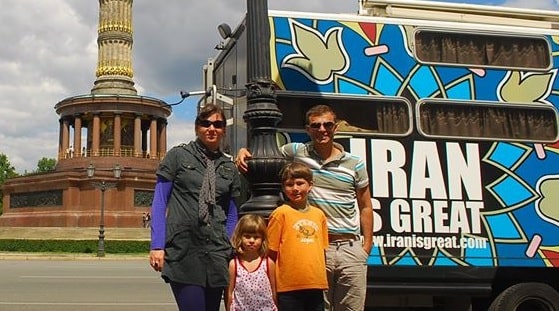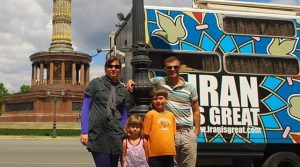 A German tourist family fascinated by beauties of Iran and hospitality of Iranians promotes the country in more than 10 European countries.

In their website – Iranisgreat.com – the Ivan family explains its mission including:
• improve the image of the Iranian people and their country
• increase tourism to Iran
• increase the awareness that Iran is a country with a high touristic, cultural and historical potential
• demystify the fact that Iran is a so-called "terrorist" or Arab country
Depending on the amount of financial resources raised, the project embraces two phases: Displaying of big promotional banners on the 4 sides of the vehicle includes the slogan "Iran Is Great" and showing Iranian films in open air spaces.
The phase 2 that needs higher budget includes Print, display and distribution of information about Iran (i.e. brochures, flyers, travel guide to Iran postcards, with Iranian poems translated into the respective language, giveaways, sweets, etc) in big Europeans cities or holiday destinations.
But the question is that why they love Iran? The Ivan family holds more than a travel connection with Iran where they have faced both odds and evens on their visit during the year 2013.
"We were robbed in Iran with all our documents and valuables; but what followed changed our notion about the people there in the country. The way they reacted by offering us a great amount of help touched our life. The negative incident was overshadowed by the goodness we encountered. I have visited many cities in Urmia, Tabriz, Yazd, Kashan, Isfahan, Shiraz and each has a certain beauty to me, my family and I really enjoyed myself in Yazd. Extraordinary architectural monuments were new for us and very warm people ready to help us at every step," says Cristian and his wife Audrey.
He also says: "We want the people in Europe recognize the rich culture and friendly people of Iran, bringing its historical, as well as natural treasures closer. We built a website, under the name "Iran is Great" to publish our experiences, impressions and tour experiences. "
Starting their journey from Europe with an initiative to introduce the cultural, natural, historical richness of Iran, the Ivan family is recently exploring the beauty of Yazd province again.
To support the family project financially, click this link.
Source: Link