World Handicrafts Day/Celebrating Love and Art
Perhaps among the calendar there are days that we do not pay too much attention to and pass easily. But if you open your calendar and look at its occasions, you will find that today is a day to reward works of art that tells the souls of Nations and relatives. One day, for kissing the hands of women and men who create with their rich culture, they create works that are specific to their homeland and transfer this precious art from one generation to the next, so that it stays stable and shines on the surface of the day.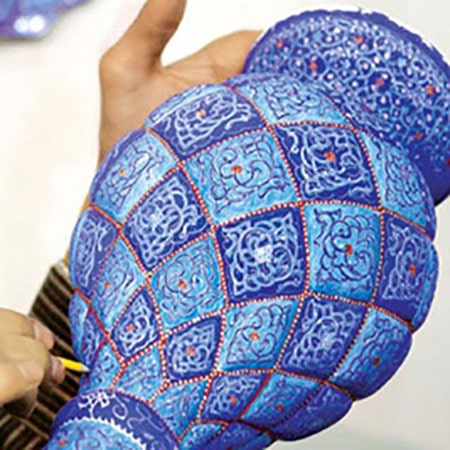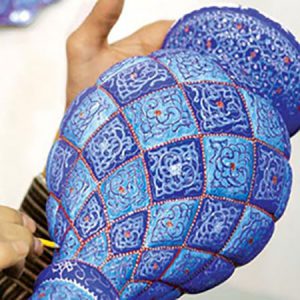 Today, at June 20, is the World Handicraft Day; a day belonging to the full-fledged world of hand-woven and romantic works that value them to such an extent that they cannot be priced. We want to celebrate the World Handicraft Day with a glimpse into this valuable craft and have a brief look at this day and its philosophy.
What is Handicraft?
Handicrafts are referred to the works and industries in which all stages of construction are made by hand and by handy tools, derived from the culture and art, and the insight and taste of the people of each region. In the manufacturing of these industries, indigenous materials are used and they are all considered as a commodity to introduce the ethnic and cultural characteristics of each region. The exchange of these industries leads to a kind of cultural connection between different societies and improve relations between them.
Handicrafts/ a way to enter the world of tribes and nations
Human beings have no chance to visit and recognize all cultures and tribes, but curious souls and minds are wishing of a new dream every day. Seeing handicrafts and applied arts can be one of the most appealing ways to understand the tribes, because this work is made up of cultures and beliefs, and the creative artist, with a tribal and national spirit, and with the love of own culture would start to create a new work that with the existing materials, colors and lovely decorations that are fulfilled from the beliefs and aspirations of the land, express them to the world.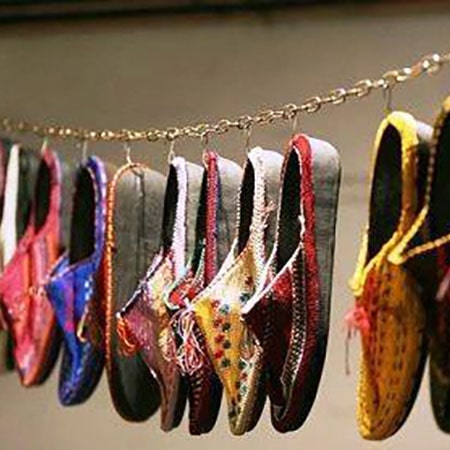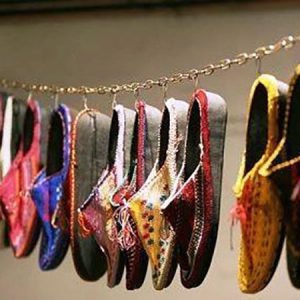 World Handicrafts
10th of June/the World Handicrafts Day
After the World War II, countries considered handicrafts with an artistic and cultural approach, the first international conference was held on June 10, 1964 in New York. At the conference, a number of university professors, artists, craftsman and … from 40 countries participated. At the end of the conference, the establishment of the "World Council of Handicrafts" was approved as a UNESCO affiliate, and its secretariat was set up in the city of Amsterdam, Holland. The council was supposed to follow the following objectives:
Encouraging, assisting and guiding handcrafted craftsmen as well as raising their professional and information level of knowledge with regard to the different cultural backgrounds in each member's countries.
Maintaining and enhancing handicrafts and manifestation of it as a major pillar of the cultural life of nations.
Creation of solidarity among handicraft craftsmen around the world.
Iran also became a member of this council in 1347, equals to 1968, and began its activities in the Asia-Pacific Forum. In 2010, Iran offered a day to handicrafts and considered it on June 10, the date of the establishment of the Council. The World Handicrafts Council agreed with this proposal, and this day was named World Handicrafts Day, WHD.
Native Handicrafts
Handicrafts Features
Any work or industry cannot easily be placed among handicrafts. To make a product as a handicraft, we have the following features:
1- the cultural role and identity of a nation (having cultural view)
2- No need for large investments compared to other industrial fields
3- Ability to create and develop in different regions (city, village and even nomadic societies)
4- Ease of creating production centers
5- Having a high added value compared to other industries
6- Self-sufficient and relies on domestic materials
7- Helping to growth and development of economy
8- Having suitable fields for export
Iranian Handicrafts
The different tribes in every corner of Iran, alongside this vast border, have long been in the production of handicrafts that were famous around the world by their creativity, artistic taste and initiative. The variety and quality of the products produced by many of the great scholars has led to the study of Iranian handicrafts. Experts from the Iranian Handicrafts Organization have classified the works based on the ways and techniques of making works, according to which 370 fields of hanicraft are divided into 24 categories:
Loom woven, hand weaving, knitted, crocheted, traditional printing, felts, pottery and ceramics, glass designing, leather and leather products, metal and metal products, brush, grinding, metal engraving and alloys, Masonry, engraving on stones and mosaic, wood chop, petiole and thinning of wood, carving, engraving and grinding of wood, mat weaving, decoration, Khatam carving, tiling, tapestry, enamels, making of delicate and artistic objects, making of jewelries, making other handmade products.
Introducing some of Iranian Handicrafts
In the following, we will introduce some of Iran's special handicrafts:
1- Loom Woven
Some Iranian crafts are woven with horizontal or vertical looms. Like carpet, kilim, Zilu and …
2- Traditional Printing
In traditional markets and crafts, cloths and cloth products are featured on which drawings from Iranian art and history have been used. These motifs are created by brush, stamp, etc., and they are known as "Batik" or "Ghalamkar".
3- Rookari
Handicrafts such as needlework, crochet, embroidered tulle, embroidered garments, etc. which are created by sewing traditional designs on unprofitable fabrics.
4- Pottery and ceramics
Pottery and ceramics are industries and utensils, the raw materials of which are clay, mud from quartz rock and kaolin, and are made by hand or pottery.
5- Carving, engraving on metals and alloys
In the art-industry, they carve traditional designs with pen, hammer and … on metal or alloy.
6- Making jewelry
Local and traditional jewelry that is made using gold, silver, and alloys and stones … made by Iranian artists and craftsmen.
7- Making other handicrafts
Handcrafts such as Firoozeh (turquoise cutting), inlay on steel, a variety of local dolls, making Giveh and masks, kites and decorative umbrellas and…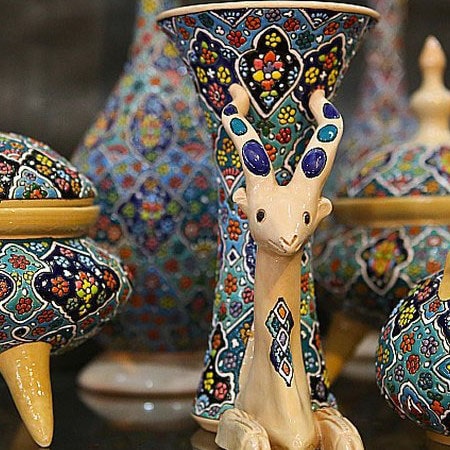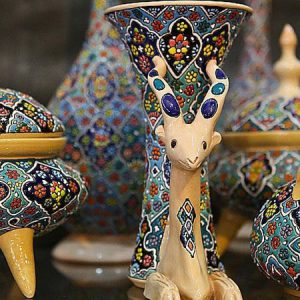 Iranian handicrafts in the UNESCO World list
In addition to its unique historical attractions, Iran has also registered its intangible heritage on the UNESCO World Heritage site, which also includes some handicrafts:
1-carpet weaving of Fars
The hands of the women and girls of nomadic settlers and Qashqai shrines in Fars province have been weaving carpets with wool yarns for many years. The feature of carpet woven by these artists is that the maps are mentally based on the nomadic culture and customs, and maybe no one will never be able to find two similar carpets among them. The originality of beautiful colored roses and great qualities of the precious weaving of these carpets are special, famous and eye catching around the world.
The production of this woven is made by women from the very beginning stage to the last stage. The Qashqai loom is prepared horizontally and the weaver should sit on the floor to weave. The reason for the use of the horizontal loom is to adapt to the living conditions of nomadism and the convenience of carrying it on the back of the livestock, and has traditionally been maintained to nowadays.
2-Kashan Carpet Weaving
Kashan has long been the carpet merchants' home like Tabatabai family, and has therefore been able to gain a good place in the market for this woven carpets. In this city, the warp and woof of carpet is cotton and in delicate carpets they use silk too.
Kashan carpets use paintings of Lachak and Toranj and there are more gray, brown, blackberry, white and black in it. The art of coloring, carpet weaving and other work related to the production of this art, goes from father to son and from mother to girl to never be forgotten.
3-the knowledge of making Lenj(small ships)
The knowledge of making Lenj refers to only one concept, and that is the knowledge of making Iranian lenjes used by the people of southern Iran and the inhabitants of the Persian Gulf for naval travel, trade, fishing, and pearl diving.
What inspired the world's surprise in this regard is paying attention to the position of the sun, the moon and stars, using a special formula for calculating latitudes and longitudes, as well as depth of water and weather forecasts in the construction of these lenjes, that are made by hands and wood. It is possible that the construction of each lenj may take up to 50 years, but due to its high resistance and long life, many captains still prefer to remain in wooden lenjes instead of using fiberglass boats. Replacing wooden lenjes with fiberglass boats, are destroying the culture, knowledge, and ceremonies of this unconventional art.
Programs of the World Handicrafts Day in Iran
In Iran, handicrafts day are considered as the beginning of the handicraft week and for a week in some parts of the different cities, handicraft markets will be established. In some cities, there are also seminars and conferences in this field. They pursue each goal and seek to improve the conditions of the artists of these industries and expand the market for their products.